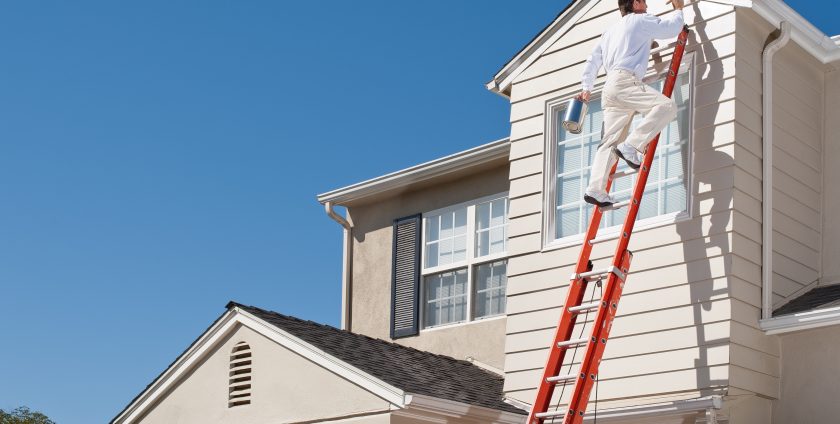 CHALLENGING AREAS OF EXTERIOR PAINTING IN HOUSES
The biggest obstacle to painting the exterior is the height of the building. Houses with two or more floors are a real challenge. This is where you need the boom lifts. They can extend to heights of over 100 feet, which makes them ideal for confined spaces and lifting personnel to hard-to-reach areas. There are also ladders, but first, think about how you will support them and whether you can work from the ladder. If working on a steep roof, you need roof boots to secure ladders. Or scaffolds. Don't forget, it is hard to work with a roller constantly dipping in colour. We highly recommend avoiding climbing if you are not a professional. The consequences could be fatal.
Other obstacles are areas such as eaves, gutters, etc. In this article, we will explain how to paint these areas. 
Painting Eaves
If you opt for the "Do it yourself method" painting eaves might be one of the most challenging parts of the process. They are hard to reach. Make sure your ladders are stable because there is a risk of falling over. It would be good to have a friend to assist you with this attempt. Before you start, prepare tools: clothes, tape, paint container, roller, ladder and small brushes. 
Clean the eaves with a power washer, spraying from the top to the bottom. Make sure your hands are stable. Cover your eyes with protective glasses! Avoid directing the jet towards the windows. High pressure from the washing machine can damage your windows. Your ladder should be no more than three feet above the eaves. Lean the ladder against the stabilizer. Make sure the stabilizers are strong enough to withstand your weight. Pack equipment in a bucket and hang them on a stable hook on a ladder.
Remove the old paint from the eaves with a wide putty.
Use a wide putty to scrape the old paint, and a narrower one to scrap the corners. You don't have to scrape all the paint off the wood. Start by scraping the most noticeable ones. Don't forget to tape the places you don't paint.
Apply paint
Paint the eaves using quality exterior paint, while standing under the top three rungs of the ladder. Standing higher will result in losing balance. 
How to paint gutters
The best way is to use water-based paint and a brush. Paint gutter from join to join. Start with painting underneath. Put plenty of paint and spread it. Lay off back into what you've just done. Laying off is the most important because it will give you a smooth finish. Do this job early in the morning (6 am) or late in the evening. Painting during direct sunlight won't end with a good finish (the paint will dry too fast). For the face part of the gutter use a slightly larger brush and repeat the mentioned procedure. 
How long do you plan to spend painting the exterior? Admit that it might take weeks with rollers and brushes. Of course, you can get out of this situation. You can always decide that it is better to hire professional painters. What do you want to save – money or valuable time? Forget about brushes and rollers and call the Evolution Painting and Decoration experts team.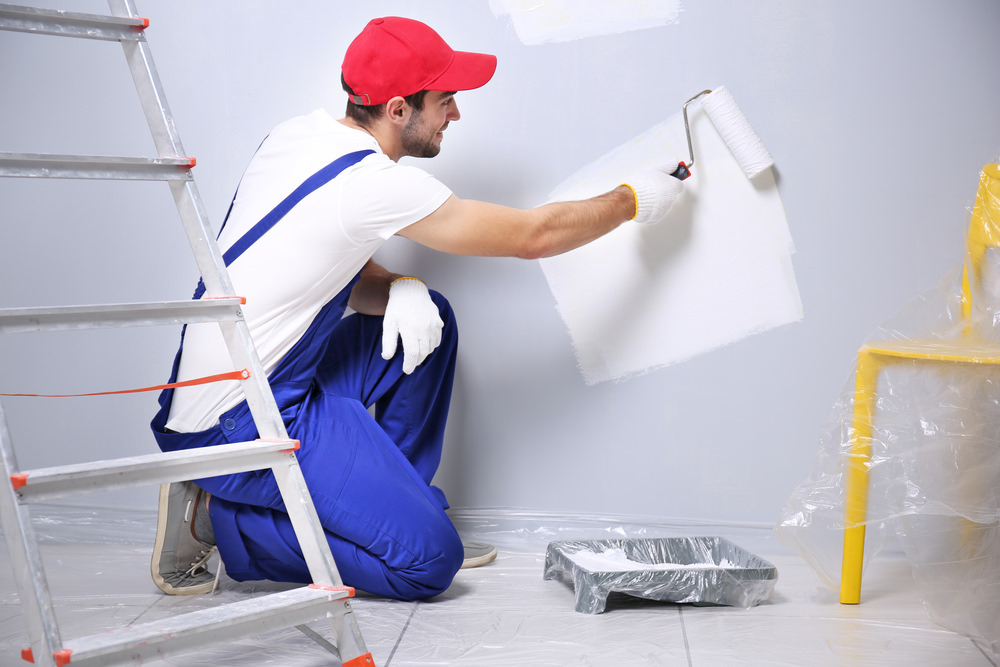 ABOUT US
Evolution Painting and Decoration is a team of professional painters with ten years of experience. We are responsible, reliable and strive for perfection.
We have accomplished hundreds of interior, exterior, residential and commercial painting projects. Our hard work and professionalism, has brought us notable popularity among house owners and contractors in Sydney and surrounding areas. We are accredited in any type of painting works such as renovation, newly built houses, roof washing, roof painting, fixes and repairs.
We provide:
Best Quality Standards
Smart & Unique Wall Work
Innovative Wall Designs
Annual Maintenance
Light Fixtures
Installation & Deconstruction
Continuous education in the use of modern techniques and the daily application of new materials are our strengths. All you need is a bold approach, and we will do the rest:)
Our Guarantee
1. Give you a free estimate, telling what will happen and which products we intend to use. We will guide you through the whole process without hidden costs.
2. Summary – what we are proposing and why – examining the options and making adjustments to meet your priorities and budget.
3. We believe that you should use the highest quality materials from the vast range of coatings. We provide maximum durability and quality of finish.
4. Honesty – informing you when the job will start, how long the job will last, and what we require from you.
5. Protect your furnishings until works are over.
WHAT WE DO
Latest Projects
Thanks to Evolution Painting for the marvellous work they have done at our house. We almost gave up in restoring our door and window frames and these guys just used their great skills to bring them back to life. I recommend Evolution painting to anyone who has renovation challenges. 

Hanna Ryan

Government Lawyers
I'm a builder from New South Wales. For years, Evolution Painting helped us to delivery immaculate finishes in our projects. These guys are reliable, affordable and highly skilled.

Abdul

Builder Developer
Thank you guys for the excellent work on my renovation work in Blacktown. Hussein and his son did a great job on our walls, doors, frames,  fences and the roof. It was an exclusive  project and I am happy with the result and the price. I recommend Raza and his team.

Hashmat

Shop Owner
A friend of mine recommended Raza for our granny flat paint work. These guys are on time, reliable and affordable. Their work skill and quality of the paint they use is the top of the range in the market.

Alan

Teacher
Nov, 18, 2021

admin

We Elevate The Beauty Of Your Home. "Each colour evokes different feelings for each individual. Your emotions depend on your personal life experience and the…

Nov, 03, 2021

admin

[vc_row][vc_column][vc_column_text]CHALLENGING AREAS OF EXTERIOR PAINTING IN HOUSES The biggest obstacle to painting the exterior is the height of the building. Houses with two or more…

admin

The roof cover is an umbrella stretched over the building. It protects it from the sun, wind and rain. Washing the roof not only makes…
CONTACT US
We always put customer satisfaction first in our priorities and treat big projects just equally as smaller ones. We respect the deadlines and perform the service as soon as possible. In our work, we use superior materials. Our quality is confirmed by a long list of references and customer satisfaction without which we would not be where we are today.
Our employees will make sure that each service is performed as agreed.
Contact us by phone 12345678, e-mail:………..@…… or message us via Facebook.
CONTACT US
Get A Free Estimate!
0 Comment